Season two of Demon Slayer has been astonishing and everything fans could have hoped for.
With the Entertainment District Arc inching closer to its season finale, anime fans have been clamoring for more with each episode getting better by the week. The title for episode nine alone was loud enough to keep fans on the edge of their seats not knowing what to expect.
Ufotable has always done a great job with the small subtle moments when looking into the characters past. Before any battle sequences are shown, the anime begins with Sound Hashira Tengen Uzui seen at the "Uzui family grave" paying respect to his fallen siblings and sharing a nice moment with his three wives, Makio, Hinatsuru and Suma. While there is great comedic timing between the four, it's heartfelt moments like these that bond the viewers to the characters involved. With that sequence ending, Hinatsuru sets up a clever poison attack to buy both Tanjiro and Uzui some time with the hopes of delivering a fatal blow to Gyutaro, picking up quickly from where episode eight ended.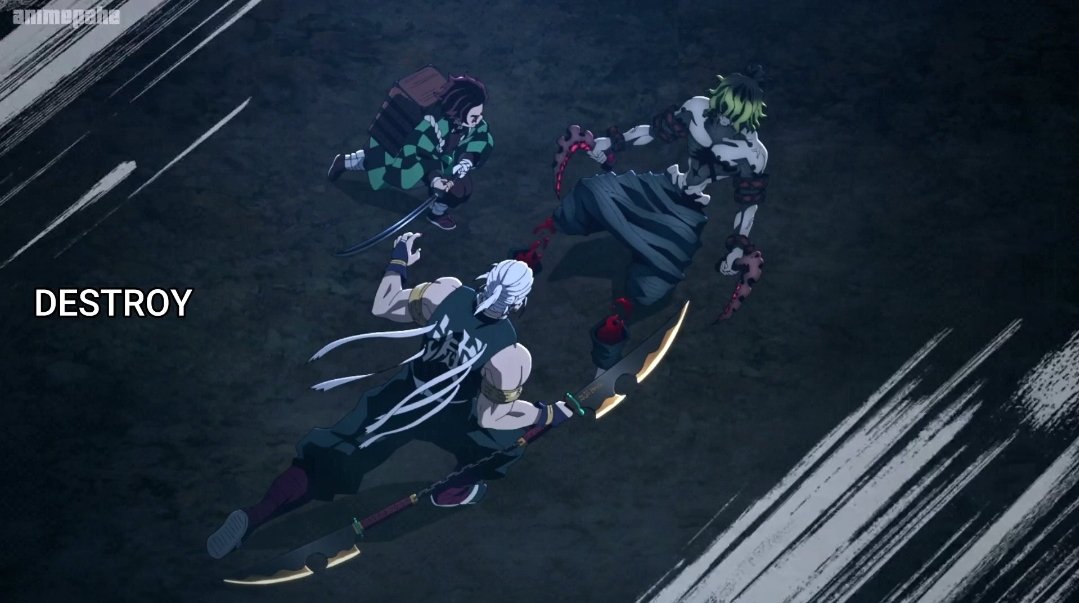 Uzui was poisoned in the last episode, so not much time can be wasted here, and sadly both Tanjiro and Uzui were not successful in being able to behead the demon. Gyutaro grows frustrated more and more as the battle continues, but this time the upper ranked demon heads towards Hinatsuru while his sister, Daki, surrounds Uzui with her razor sharp belts as he looks on in fear. Tanjiro is lucky to be alive here, because he's barely been able to dodge some fatal attacks that would have delivered a huge blow to their team. With Tanjiro mixing up the kagura and water breathing techniques, he's able to redeem himself here by saving Hinatsuru setting up Uzui to land another attack, but not before telling the young hero, "you have my gratitude", which was a beautiful moment even during a deadly battle.
On the other side on the battlefield, Inosuke and Zenitsu show maturity compared to last season, with their intense training paying off by utilizing quickness and good teamwork during their fight with Daki, but struggle early on to get anywhere near the demon. Daki's razor sharp belts are too much to handle, and she's even able to attack Uzui and Tanjiro to defend her brother, forcing the heroes to constantly rethink their strategy. A lot was going on, but it was a big Inosuke episode as the 'muscle' of the group took charge late and, ignored all of Daki's attacks while Tanjiro and Zenitsu protected Inosuke as he raced toward the demon even while getting sliced up into a bloody mess by the belts.
Inosuke does the unthinkable and is successfully able to behead Daki even though his blades are worn out at this point. It's a great moment for the heroes, but it's also hilarious now that this is probably the third time that Daki is beheaded within the past few episodes. Before she can regenerate her head back onto her body, Inosuke grabs the demons head and runs with it, but is sadly delivered a possible fatal blow by Gyutaro straight through his chest as Zenitsu and Tanjiro look on in horror with Inosuke dropping Daki's head and likely reeling onto his final moments. Tanjiro anxiously looks for Uzui, and the battle seems like it's headed in favor of the demons as Uzui is shown covered in blood on the floor with his hand cut off as the episode comes to an end.
Overall, it was an excellent episode with great storytelling. So far, every action has a purpose in this arc, and the creators waste no time during battle sequences and during the more subtle moments that help move this story along. With the season finale for the Entertainment District Arc just a few weeks away, things are going to get more critical for the heroes with stronger demons on the horizon and fans will likely be stressed not knowing where this is headed until episode ten drops on Feb. 6.