As Mötley Crüe heads to Australia to continue THE WORLD TOUR, BMG has released a multi-configuration celebration of the 40th Anniversary of their landmark 2nd album, SHOUT AT THE DEVIL. The centerpiece is the Limited Edition Super Deluxe Box Set which features the newly remastered album on LP, CD and Cassette.  Also included are reproductions of the original 7" singles of "Too Young To Fall In Love" and "Looks That Kill" alongside a Pentagram Séance Board, Devil Board w/Metal Planchette, Metal 7" Adapter, album art lithographs, tarot cards, devil candle holder and more.  In addition, 7 rare demo tracks have been resurrected and are included as SHOUT AT THE DEMOS & RARITIES.
SHOUT AT THE DEVIL – 40th Anniversary is available NOW as a streaming/digital deluxe edition and the following Limited Edition configurations:  Super Deluxe Box Set, Picture Disc, Red/Black Vinyl,  LP Replica CD, and Lenticular CD.
Originally released in 1983 at the height of the Satanic Panic, SHOUT AT THE DEVIL catapulted Mötley Crüe to superstardom. Delivering on the hype and promise of their PLATINUM debut, Too Fast For Love, Mötley Crüe's second album hit the US Top 20 and was certified 4X PLATINUM. For many music fans, SHOUT AT THE DEVIL was the first time they witnessed an album with this imagery and lyrical content on mainstream retail shelves.
SHOUT AT THE DEVIL continues to be a cornerstone of Mötley Crüe's live set, with the band playing up to 4 songs from this iconic album at every show of THE WORLD TOUR which is currently underway. Fittingly, the original touring cycle for this album saw Mötley Crüe jump from opening act to full on arena headliners.
The ground-breaking music videos for "Looks That Kill" and "Too Young To Fall In Love" set the standard for countless MTV moments. Those two singles, combined with the sinister title track, reckless cuts like "Knock 'Em Dead, Kid", "Bastard" and "Red Hot", their frenzied take on "Helter Skelter" and the haunting nearly instrumental "God Bless The Children Of The Beast" helped create this era- and genre-defining album. 40 years later, MÖTLEY CRÜE is still going strong, bigger than EVER and headlining STADIUMS around the world!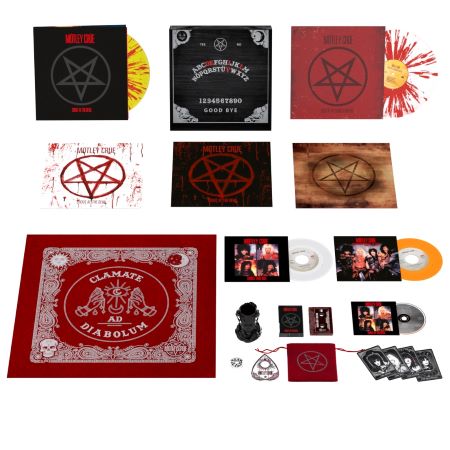 Deluxe Limited Edition Box Set Includes:
Original Album Remastered on Orange/Yellow Splatter LP
Shout At The Demos & Rarities Red/White Splatter LP
Shout At The Devil CD
Shout At The Devil Cassette
"Looks That Kill" White 7"
"Too Young To Fall In Love" Orange 7"
Devil Board w/Metal Planchette
Metal Pentagram 7" Adapter
Pentagram Felt Bag
Devil Candle Holder (candle not included)
Band Member Tarot Cards
12" x 12" Pentagram Séance Board
Two 12" x 12" Shout At The Devil Blood Album Cover Litho Art Prints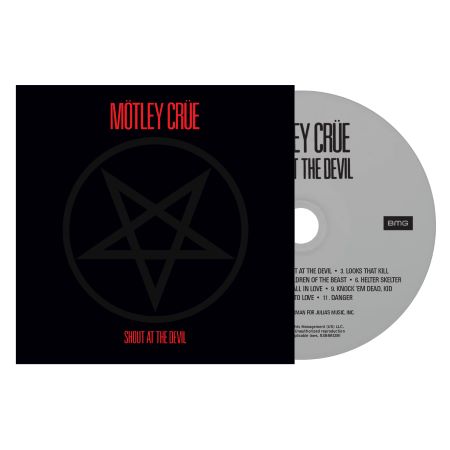 Album Tracklist:
In The Beginning
Shout At The Devil
Looks That Kill
Bastard
God Bless The Children Of The Beast
Helter Skelter
Red Hot
Too Young To Fall In Love
Knock 'Em Dead, Kid
Ten Seconds To Love
Danger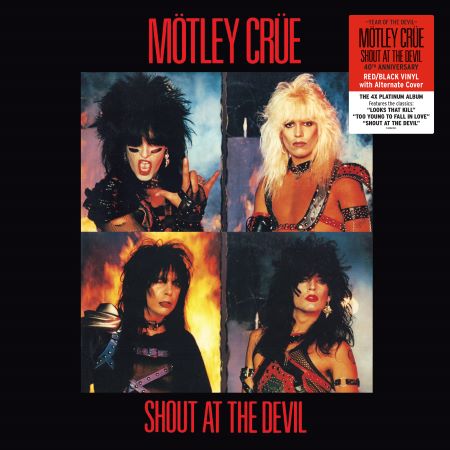 Shout At The Demos & Rarities Tracklist:
Shout At The Devil (Demo)
Looks That Kill (Demo)
Knock 'Em Dead, Kid (Demo)
Too Young To Fall In Love (Demo)
Hotter Than Hell (Demo for "Louder Than Hell")
I Will Survive (Demo)
Black Widow (Demo)