As Paul Sewald delivered the final pitch of the season at Citizen's Bank Park, pinch-hitter Jake Cave popped a shallow fly ball to presumed 2023 National League Rookie of the Year Corbin Carroll in right, the "Snakes Alive" mantra ringed true ahead of a trip to the Dallas Fort-Worth metropolitan area in Texas for their first World Series appearance since their seven game victory against the Yankees in 2001. When the Diamondbacks acquired Sewald from the Seattle Mariners at the deadline in July, General Manager Mike Hazen was attempting to shore up a bullpen that had been the Achilles heel for a surprise contender led by Carroll at the top of the lineup. However, by the middle of August, the Diamondbacks found themselves under .500, before rattling off 11 wins in a 13 game stretch, and playing well enough to secure the final postseason spot for the National League.
Two of the eleven wins came at home on August 21st and 22nd, with wins against The Texas Rangers, who had found themselves in a similar situation. Leading the American League West for most of the season, went on a major losing skid down the stretch to lose the American League West, surrendering a bye to go play the Tampa Bay Rays in St. Pete. On the back of ace Jordan Montgomery and former Ray Nathan Eovaldi, the Rangers held the Rays offense to just one run. Yet, perhaps, that combination perfectly portrays not only the Rangers pitching staff in 2023, but their roster construction altogether, and how differently it is from a three-pitcher Arizona staff built through the farm.
Torey Lovullo's Analytical Script Looks to Finish the Story For Arizona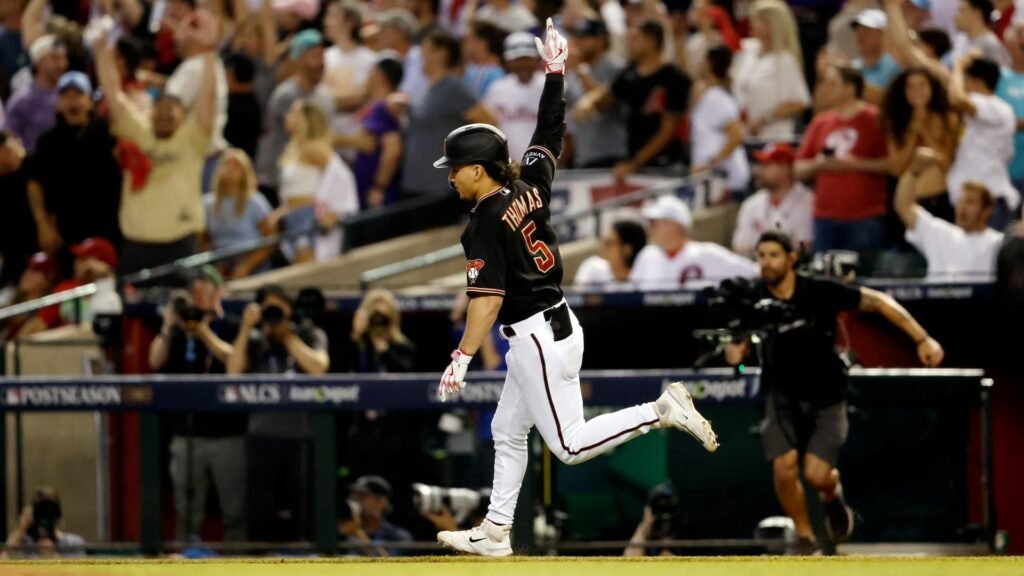 In a world where analytics are commonplace, there's constant scrutiny about teams being unable to deviate from a script in a playoff series. Take, for example, Kevin Cash's decision to pull Blake Snell and bring in Nick Anderson to face Mookie Betts. Or, for another example, the decision that Buck Showalter made when Edwin Encarnacion walked off the Orioles in a win-or-go-home game while the best reliever in baseball was sitting in the Baltimore bullpen in the 2016 Wild Card game. Fans can point to a numerous amount of postseason series that are remembered infamously for a poor decision that was made before the game began. Each manager has a script in the modern game, and the teams that win are the teams whose manager knows how to think on their feet when things go awry: The 2022 Houston Astros, the 2021 Atlanta Braves, the 2019 Washington Nationals.
That is until the Diamondbacks of 2023. Manager Torey Lovullo managed games the exact same way, as if it were an exact science, when they swept the Milwaukee Brewers and Los Angeles Dodgers he did when they found themselves needing to win back-to-back games in front of raucous Philadelphia crowd. For a team that has low payroll and whose biggest free agent signing is a 38-year-old Evan Longoria on a one-year deal, this marks a momentous win for the modern baseball crowd. The front offices around the league that continue to try and win while spending less, using prospect capital and computer data to foster a winning environment, rather than free agent splurges can point to the 2023 Diamondbacks to prove that it can work and it's a winning recipe.
However, the Diamondbacks aren't the analytical powerhouse utilizing the three-true-outcome offensive approach. With 23-year-old superstars-to-be Corbin Carroll and Alek Thomas leading the way, the Diamondbacks showcase athletic prowess. The Diamondbacks are at their best when they're stealing bags, stringing together hits, and timing their homers. However, the primary difference between the Diamondbacks and other small market, analytical juggernauts: the front office usually stays out of his way. While they give recommendations, it's Lovullo who puts together his own script, knowing the guys he is around everyday better than anybody else. It's a Lovullo decision, for example, to have Geraldo Perdomo and Ketel Marte, two switch-hitters, bookending a lineup in a winner-take-all game. Hitting second in that lineup is Corbin Carroll, whose .283 average against lefties is only three ticks below his .286 average against righties. While Carroll sees a majority of his power against the opposite side, Carroll is a lefty who averages the same amount of hits regardless of who is on the mound. A 9-1-2 of Perdomo, Marte, and Carroll makes it incredibly difficult to play matchup in a game where every out matters just as much as every baserunner allowed late in games. That decision alone led to a hit by Perdomo, a double by Marte, and a sacrifice fly by Carroll in the critical game seven against Philadelphia, while Rob Thompson had the arm he trusted most against the three in the game for those three batters. Lovullo's script changes by the game, but it's so thoroughly thought-out that it won't change during the game under any circumstances.
That isn't to say that the Arizona offense isn't capable. Carroll is the prized draft pick of Mike Hazen's six-year-tenure as Diamondbacks General Manager. Hazen rewarded a 32-game 2022 stretch for Carroll with an eight-year, $111M extension before the 2023 season began. Carroll rewarded him by finishing one stolen base shy of a 25-HR/55-SB campaign, while also playing dazzling defense in right field. Carroll was one of three position players to represent the Diamondbacks in the 2023 All-Star game.
Another Arizona All-Star in 2023 was Geraldo Perdomo, a shortstop who was 43% below league-average at the plate in 2022. But as Arizona trusted the process that the young talent was there and ready, the more rewarded they became. But perhaps the biggest additions to the team were rookie catcher Gabriel Moreno and 2023 All-Star outfielder Lourdes Gurriel Jr. Using the prospect capital built over the years, the Diamondbacks acquired both in an offseason trade with Toronto, sending away catcher/centerfielder Daulton Varsho, who at 26 had figured to be a long-term piece in the desert. The team without Moreno behind the plate this year is under .500, but with Moreno, the Diamondbacks become one of the most formidable teams in baseball.
Of course, any discussion about the Diamondbacks offense would be incomplete without mentioning Ketel Marte, the straw the stirs the drink. Marte set a record this postseason with a 16 game hit streak to start his postseason career, but the NLCS MVP has been an under-the-radar superstar far longer than 2023. Since being traded to Arizona in the Mitch Haniger deal, Marte has a scintillating .282/.352/.478 slashline while seeing defensive time across the diamond, notably premium positions such as shortstop, second base and centerfield. He averages over 20 homers every 162 games, providing pop at a key position in the lineup. Yet, despite a consistently stellar offensive profile, the only year that Marte was an All-Star selection was in 2019, when he finished top five in NL MVP balloting. A switch-hitting middle infielder with a low strikeout rate that hits the ball hard from both sides of the plate is a commodity that isn't appreciated as much as it should be in the modern game.
The fascinating strategy of the Diamondbacks in the postseason is how Lovullo utilizes his pitching staff. He's ridden three starting pitchers throughout the entire postseason, most likely out of necessity, and one of them was a rookie pitching their biggest games. Brandon Pfaadt, Arizona's top prospect, was sent down on three occasions this season, posting an ERA closer to six than five over only 96 frames across his MLB stints. In four postseason starts, Pfaadt pitched to a much better 2.70 ERA in 17 postseason frames. Yet, despite how well he pitched, Lovullo never went above the outs that the team had planned for. The main bullpen piece outside of Sewald for the Diamondbacks was also a rookie. Andrew Saalfrank had appeared in only 10 Major League games, but left Lovullo so impressed he game planned his pen around the young lefty in the Philadelphia series. He's already appeared in eight postseason games, and was matched up with multiple time NL MVP Bryce Harper every time Bryce appeared in a big spot late. In his first 18 games in the Majors, Saalfrank has surrendered only two runs while getting some of the biggest outs in the games he's in.
Beyond Pfaadt, the Diamondbacks are riding co-aces Merrill Kelly and Zac Gallen. Signed for only $2M per year out of the KBO, Kelly didn't debut in the Majors until his first outing in Arizona in 2019. Kelly provided his best season yet, with a 132 ERA+, rating 32% better than the average pitcher in 2023. Zac Gallen has also been with the Diamondbacks since 2019 when they acquired him from the Marlins in the Jazz Chisholm deal. While watching a player flourish for another team as one of the game's most electrifying players is always rough, Gallen has delivered for Arizona. In his first 631 innings as a Diamondback, Gallen has a 3.24 ERA. But the magic behind Gallen is that he mixes in six plus pitches, keeping hitters guessing. With hitters unsure about what he's going to throw, it makes it difficult to sit on a pitch and square it up. Gallen in 2023 was in the bottom 3% of both hard-hit% and average exit velocity. His impeccable control on all six pitches has led to him average seven more Ks than walks every nine innings pitched. This creates a potent combination that keeps Gallen out of jams. On the off-chance that baserunners due reach and Gallen doesn't strike the next guy out, he induces soft contact into the teeth of his defense. Gallen's worst stretch of the season has been the postseason, but it's unlikely for the trend to continue, which doesn't bode well for Ranger hitters that rely on squaring up their pitchers.
The confidence instilled by Lovullo that the players will deliver his day-to-day gameplans have kept an inexperienced Arizona team both grounded and loose, as if every day is just another game.
How Texas Built From Scratch in Two Seasons
Coming off their fourth straight losing campaign, the Rangers parted ways with general manager Jon Daniels, who'd been at the helm for fifteen years. The franchise hired former starting pitcher Chris Young with a blank canvas ahead of a 2021 season where the Rangers lost 102 games. The first major move of Young's tenure was to get Nathaniel Lowe, a slugging first baseman, from the Tampa Bay Rays. While Lowe had established himself as a valuable piece for the Rays, the Rays had a logjam at first base with Ji-Man Choi and Yandy Diaz manning the corners. Lowe hadn't even seen an at-bat for the Rays after their first round victory against the Blue Jays in the extended 2020 postseason. Young gave up a handful of prospects, including shortstop Osleivis Basabe, who became the first to make the Majors late in the 2023 season. In his first season as a Ranger, Lowe saw an increase in flyball rate, an 11% decrease in K-rate, and an increase in BB%, leading to a 112 OPS+ and a major win in Young's first move as general manager.
Heading into Spring Training that same season, a player on his last chance seemed to rise to prominence for Young's Rangers. In December of 2019, the Rangers acquired the rights to the contract of Adolis Garcia, an outfielder who had only seen 17 big-league at bats in a minor cash transaction. Garcia had defected from Cuba by playing in Japan and intentionally missing a connecting flight back to Cuba in Paris, so that he could move to the Dominican Republic to establish residency and qualify under MLB's International Player Pool, and thus didn't get ample MLB playing time through the age of 27. In fact, the Rangers had designated Garcia for assignment after only three games with the Rangers in February of 2021 as the corresponding move to add Mike Foltynewicz to the roster. With 29 other clubs passing on taking Garcia from the scraps, the Rangers brought him into Spring camp with an opportunity to crack the Major League roster. For that 2021 season, Garcia became a Major-League All-Star for the first time at age 28, and in 2023, Garcia hit 39 homers, drove in over 100 runs for the second time in as many years, and posted an OPS north of .800 for the very first time as he became a player synonymous with comfortability in the biggest of situations.
Young took a mediocre 2021 season as an opportunity to assess what assets the team had. Needing proven commodities in the lineup and an improvement in the middle infield, Young seemingly overpaid for two shortstops in a 24-hour window. With an injury history as long as a Chris Jericho list, All-Star shortstop Corey Seager didn't seem to have many suitors vying for ten years of his services. Despite the market dictating far fewer years for far fewer dollars, Young took the opportunity to ink the shortstop to a 10-year, $325M pact. While the 2022 All-Star season was good but not great for Seager, his 2023 season is garnering him major MVP support against Angels' two-way sensation Shohei Ohtani. Seager's 33-homer, 42-double, .327/.390/.623 slash campaign puts him back on the Hall of Fame trajectory that he had in Los Angeles. But, in a franchise-altering day, an even more surprising move was the signing of long-time shortstop Marcus Semien that happened just before it. Semien, who had wrapped up his first season as a second baseman in Toronto, agreed to terms for $25M per year for seven years. Semien had just become an All-Star for the very first time with Toronto, and at age-30, had been nothing beyond a reliable player for a majority of his big league career across stints with the White Sox and Athletics. Yet, in 2023, Semien proved to be a critical spark plug at the top of the Texas order, leading the American League in hits, as well as hitting 29 homers and driving in 100 as a leadoff hitter. Semien has led the American League in games played in each of the last four non-shortened seasons, including playing in every possible game except one in his first two years in Arlington.
Unfortunately for a revamped Rangers offense spearheaded by a top-four as credible as any team in baseball, the lack of pitching depth and questionable game-management led to a .420 winning percentage on the season, prompting the Rangers to buy-in on the top arms on the market. On top of signing Boston ace Nathan Eovaldi to a three-year commitment, they bought high on multi-time Cy Young recipient Jacob deGrom, whose injuries led him away from Queens, A future Hall of Famer with a 2.05 ERA between 2018 and 2022, deGrom signed a 5-year, $185M pact before undergoing Tommy John surgery six outings into his season. For a team that made the postseason by a mere one game, the Rangers made all six of his starts count, going 6-0 in games that deGrom appeared in. At the trade deadline, the starting rotation was so depleted that their top options were Andrew Heaney, Dane Dunning, and Martin Perez. As the team lulled, Young had his eyes on multiple veteran starters and a veteran relief arm.
Young swung deals to first add Aroldis Chapman, long-time Yankee closer who was riding a one-year-prove-it contract with the cellar-dwelling Kansas City Royals. He followed it up by acquiring Jordan Montgomery, a very good #2 starter from an underperforming Cardinals team, and an under-performing 3x Cy Young award winner Max Scherzer from the New York Mets. Scherzer, the highest-paid player in baseball, was having his worst season since 2011 with the Tigers, The Mets were so desperate to get out from under Scherzer's contract that the Rangers aren't paying him a dime in 2023.
Controlling the pitching staff is rookie catcher Jonah Heim, representing perhaps the biggest win of his general managers young tenure. Heim went from the Orioles to the Rays in a trade for Steve Pearce, the Rays to the Athletics in a trade for Joey Wendle, and to the Rangers in the trade that ended Elvis Andrus' 12-year run with the club before establishing himself at the Major League level in 2022. The combination of pop-up time and his strong-throwing arm make him one of the toughest catchers to run on, controlling the run game better than most in a season where stolen bases have become rampant. Between his raw athleticism, his elite pitch-framing and strong pitch calling have established Heim as one of the finest catchers in baseball.
Chapman added experience to the bullpen behind closer Jose LeClerc, the only remaining piece from the last time the team made postseason play. Montgomery posted a 2.8 ERA in just under 70 innings in the regular season as a Ranger. Mad Max returned to form by shaving almost a full run of ERA differential between the Mets and Rangers.
The veteran's didn't always deliver, however, and it's a rookie on the team that paid late-dividends. 21-year-old Evan Carter wasn't supposed to be in the Majors for two more years, yet injuries forced him into the lineup in September. Thanks to a knack for making pitchers work, big hits and incredible defensive play in the outfield, he found himself in the midst of some of the Rangers biggest postseason moments.
All things considered, Young answered the questions regarding his pitching and defense every time the team began to tumble, but a baseball team is only as good as its leader, and Young called in a favor. When the Rangers traded Chris Young to the Padres in the Adrian Gonzalez deal almost two decades ago, he played his first season under the California sun for Bruce Bochy, who enjoyed a life in baseball that featured three Championships and four pennants with him at the helm. As the Rangers moved on from Chris Woodward, Bochy came out of retirement to manage a Ranger team that needed guidance. Celebrated as 'even-keeled,' by Lowe following their ALCS victory, the Rangers had put together a super team through their highest payroll in team history and have a Cooperstown-bound skipper leading the way. A manager that in an analytical world, still uses gut and experience to make his own decisions, knowing his players strengths and weaknesses beyond a stat sheet.
The Rangers aren't an analytic team. In fact, they're the anti-thesis of what the Diamondbacks represent philosophically. While the league laments teams such as the Padres, Mets, Yankees, and Angels that rely on what's now-considered an antiquated ideology of payroll importance, the Rangers are showing that analytics and a farm system aren't the only way to build a team.
The 2023 World Series
Despite vastly different roster constructions and in-game philosophies, both of these teams that lost 100 games two seasons ago, trudged into postseason play, and faced insurmountable odds against the defending league champions needing two wins on the road. Yet, Arizona and Texas both outlasted their circuit for an opportunity to attain the same elusive goal: a World Series Championship.
The Arizona Diamondbacks do not have a single player that has won a World Series ring, nor has their manager ever managed in a World Series. It's debatable that part of the reason they've made it this far is that they weren't supposed to be here, and that the lack of experience helps keep the moments from getting to them. Arizona would be only the fourth team in the free agency era to field an entire championship roster with a player who'd never won a World Series, joining the 2002 Angels1, 2017 Astros and 2019 Nationals.
The Texas Rangers added two relievers this year that were closers for World Champions (2016 Cub Aroldis Chapman, 2021 Brave Will Smith), two aces who have Championship pedigrees (2018 Red Sox Nathan Eovaldi, 2019 National Max Scherzer), and a shortstop who's already won a World Series Championship in their stadium (2020 Dodger Corey Seager). They complimented the added players with a manager who won three World Championships in a five year span with the San Francisco Giants, including the team that defeated Texas the last time they played in the Fall Classic. With the winning culture that the additions have brought to Texas came the expectation of a championship, and in the first year this group is together, it seems almost inevitable. A team with lofty expectations that hadn't contended in recent memory will play a team that wasn't supposed to contend in the best-of-seven series that means the most for all of them.
Analytics or no analytics, baseball isn't played on a computer, but the numbers that the computer suggests can develop winning strategies in specific scenarios. Both teams have the right personnel for their brand of baseball, finding the perfect mix for their team chemistry. One team will be rewarded with a World Championship banner in their stadium, and the other will be the final team to see their dreams fade.
First pitch will be at 8 EST Friday at Globe Life Park in Arlington on FOX. The Rangers have homefield advantage in the best-of-seven as they send Nathan Eovaldi to the bump, opposing projected Diamondbacks starter Zac Gallen.
Follow me on Twitter: @TheJameus
This statistic only accounts for players who were on the active World Series roster, so it does not include Clay Bellinger, who'd won a ring as a member of the 2000 Yankees. ↩︎